UPDATE: See my guide of tips and tools for avoiding getting scammed on crowdfunding sites like Kickstarter and Indiegogo. The best part? They're all free.
---
Since my post earlier this month about Nbition, the crowdfunding scam artists, two new stories have come to light about their founders, brothers Nelson and Benson Chiu. Brother Nelson is attempting to recruit new partners possibly through speaking engagements at Hong Kong universities. And, just last week, brother Benson publicly announced he has left his brother and their company – providing some insights into their company operation.
To recap so far, the Chiu brothers can be connected back to at least six projects (more unconfirmed) on Kickstarter and Indiegogo that have never delivered a finished product. Each project follows a formula of offering something almost too good to be true, at an irresistible early-adopter price. They tend to be very technical products, marketed at non-technical people.
Nelson Chiu Speaking at Hong Kong University
After my last post on this subject, a reader sent in a flyer from the Hong Kong University of Science and Technology (HKUST). The title was "How to get funded in the first 24 hours for your Crowdfunding Campaign." The speaker? None other than Nelson Chiu himself. The bio on the flyer consists of a mere two paragraphs.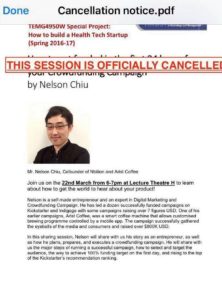 The first paragraph claims Nelson is an "expert in Digital Marketing and Crowdfunding Campaign [sic]." The bio also attributes "a dozen successfully funded campaigns" to Nelson, starting with the Arist coffee maker. The bio fails to mention that none of these dozen projects have successfully been brought to market. The only thing he was successful in, in regards to those dozens of projects, is scamming millions of dollars from backers around the world.
The second paragraph outlines his talking points for the evening: how to select and target an audience, how to achieve 100% funding in one day, and how to rise to the top of Kickstarter. All of these points support the idea that these projects are never meant to bring a product to market. There is no mention of product research, development, or testing. Just how to raise money fast.
The speaking engagement was suddenly and mysteriously canceled by the university. Not much information can be found online besides screenshots of the original postings. From the people I have talked to, there was an uproar from students and the general public.
Benson to Leave Brother and Arist Home
Out of nowhere this past week, a post was made on Medium by Benson Chiu announcing he resigned from the Arist Home company back in October. He claims to have learned a lot from the process and the company grew quicker than they could keep up with. There is no mention of Nbition or any other projects in his post. About half way through is where it starts to get interesting. Benson says, "I won't allow myself to work in a world full of deception and [I'm] determined to say goodbye to all 'lies.'"
At the end, he goes on to say, "be careful to choose your partner. If your partner can't share the same goal, beliefs and values with you, or you don't have a same "dream", please don't work with him together." While he is not being transparent in what happened between he and his brother, it is clear that he is trying to distance himself from his brother and the lies that have been told over the last 2+ years. As of publication, he has not returned my message and has not made anymore public statements.
Hopefully in the coming months, more details will be released about what really happened at Nbition.
See my guide of tips and tools for avoiding getting scammed on crowdfunding sites like Kickstarter and Indiegogo. The best part? They're all free.
Like this post and want to see more like it? Let me know in the comments.